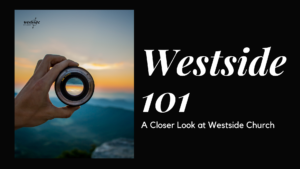 Westside 101 will take you through the beliefs and values we hold dear at Westside and talk about where we are going as a church and how you can partner with us. If you have already gone through this class, the videos are a great way to review the material!
You can watch videos at home, online, before attending an in person meeting. You will have a chance to meet new friends, ask questions, and have a better understanding of what God is doing here at Westside.
We offer 101 Classes every quarter, the last class was Aug 14th! Stay tuned or talk to someone at the Welcome Center for more information!
All the videos can be viewed below!